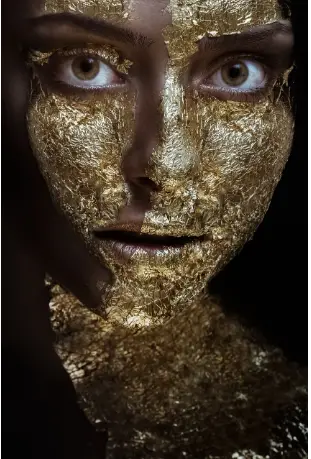 Oily skin signs and symptoms are very common skin issues that every one of us experiences at least once in life. It is caused by the production of sebum through your sebaceous glands located under the dermal layer. Oily skin may be due to genetic factors, hormonal fluctuation, overactivity of sebaceous glands, poor skincare routine, or environmental factors. Sometimes using comedogenic skincare products may also stimulate the overproduction of oil on your skin. 
However, using a good skincare routine, especially homemade facial masks can help dermis reduce the overproduction of oil, helping you have oil-free skin.
Highlights:
Lemon helps reduce sebum production and signs of oily skin.
The anti-inflammatory properties of oats decrease acne due to excessive oil on the skin.
Due to its excellent absorption, applying Multani mitti on the oily face reduces sebum production. 
Does Facemask Reduce Excessive Sebum Production?
Facemasks cannot potentially control sebum production. However, they can help you manage excessive oily skin symptoms by preventing clogged pores symptoms. Applying facemasks can promote skin cleansing, reducing the growth of harmful bacteria and viruses. Thus, alleviating the symptoms of skin conditions such as – acne or psoriasis. To get healthy, smooth, shining, and oil-free skin, you can use any of these facemasks:
Charcoal Skin Booster Facemask
Charcoal is an excellent skin agent that helps reduce the symptoms of oily skin. It also acts as a cleansing agent responsible for deeply cleaning pores and removing dirt and unhealthy bacteria in your skin. When combined with aloe vera gel, charcoal helps revive dull skin, reducing acne outbreaks. 
How to make a charcoal facemask
You can make this mask by mixing 2 tablespoons of charcoal with three tablespoons of aloe vera gel and honey. Apply it once a week to reduce excessive oil and dirt on your face. 
Some people may experience adverse skin reactions after using a charcoal facial mask. If you also experience allergic symptoms such as – skin rash, itchiness, or flaky skin, consult a dermatologist. Any sort of negligent action may cause harm to your skin. 
Lemon-Egg Pore Tightener Facemask
Due to its astringent properties, eggs can help tighten your facial pores. When skin pores are tightened, blackheads are pushed out of them, giving your skin a healthy and bright appearance. Moreover, the closure of pores causes less sebum production, leading to oily skin. Lemon contains vitamin C, known for improving skin color and removing harmful microorganisms. 
How to make a lemon-egg face mask?
Beat one egg and mix two tbsp of lemon juice in it and apply on your face. Applying this facemask once a week can thus help reduce oily skin symptoms. 
Rose Water and Clay Facepack
Clay, a natural ingredient, is best known for absorbing excess oil and impurities from your skin. Its deep cleansing properties help draw the dirt and other impurities out of your open skin pores. It also exfoliates dead skin cells, providing a smooth skin surface. On the other hand, rose water balances the pH levels of your dermis, regulates sebum production, and reduces signs of oily skin. 
How to make a clay-rose water face mask
Mix two tbsp of clay with an adequate amount of rose water to make a thick facemask. Apply this mask twice a week to reduce frequent oily skin symptoms. 
Oats and Honey Pack
Oats are beneficial for exfoliating dead skin cells with excess oil. This regularly prevents pores from clogging and excessive acne. Its anti-inflammatory properties reduce excessive inflammatory skin symptoms. Honey, also called a natural humectant, easily attracts water molecules from the environment. This helps skin retain its moisture, helping the dermis control excessive oil production. 
How to make an oat-honey face mask
You can make this oil-control face mask by mixing two spoons of ground oats with one spoon of honey. It is believed that applying this facial mask once or twice a week can help you maintain healthy skin with controlled sebum production. 
Cucumber and Yogurt Mask
The astringent properties of cucumber effectively control the excess production of sebum in your skin. These green vegetables also contain water content in abundance, which keeps your skin hydrated for a prolonged time period. It also provides a cooling effect, soothing and calming acne-prone skin.
Likewise, yogurt is rich in lactic acid, which helps balance the skin's pH levels. This regulates sebum production, preventing the signs of excessive oil. 
How to make a cucumber-yogurt facemask
Simply chop the cucumber and add yogurt mixed with turmeric in it. Apply a thick layer of this mask on your face thrice a week to diminish the overproduction of oil.
Neem combo Turmeric Facial Mask
The cleansing properties of Neem remove impurities, excess oil, and debris from the skin's pores. Also, the antibacterial properties of green neem leave fight acne-causing bacteria. Turmeric is known for its special sebum-regulating properties. Both these ingredients also have anti-inflammatory properties, which provide a soothing effect to the itchy, oily, and acne-prone skin. 
How to make a neem-turmeric face mask
You can make this facemask by making a thick paste of turmeric, neem leaf powder, and rose water powder. Applying this facemask thrice a month is enough to reduce excessive oil on the skin.  
Fuller's Earth and Rose Water Facepack
Fuller's Earth, also called multani mitti, is a natural clay, often used for reducing excessive oil production on oily skin.  It has excellent oil-absorbing properties, which balances excessive oil sebum production by healthy dermal cells. It also draws impurities, dirt, and toxins out deeply from the open skin pores, preventing clogged pores. Its natural tightening effect on your skin reduces the appearance of large and open facial pores. 
How to make a fuller's earth-rose water face mask
For the application of this mask twice weekly, take 3 tbsp of multani mitti and mix it with turmeric and rose water to make a thick paste. 
Conclusion
Facial masks can not only purify the dermis from the growth of harmful microorganisms but also help control sebum production. The synergistic effect of the antibacterial properties of these facial masks can reduce signs and symptoms of acne. This can help you have smooth, shiny, and healthy skin types. 
If excessive oil production doesn't stop after using these remedies, seek immediate attention from the best skin specialist. Timely skin treatment can help you regain healthy and radiant skin.